Hi Stunners!!!
Apologies for the lateness of this post but I was away on holidays and the internet reception was sporadic at best. I tried to keep up with all your blogs too but leaving comments proved to be too taxing for my internet reception on my phone. Boy you guys have been prolific for the last 2 weeks on the blogosphere, awesome to see. I have a lot of brilliant craft reading still to do though.
My wipocalypse project is HAED's Large Treasure Hunt Bookshelf and Golden Kite's The Arrival of Guests, Venice. I managed to get a page finish on the Bookshelf however, the poor guests failed to make an appearance.
Here is my IHSW effort. Not a lot accomplished as I was on nightshift for Saturday and Sunday night. Saturday night proved to be too busy so I didn't even get a chance to throw in a few stitches until an hour before my shift ended. But on Sunday I almost got the acrobat's pants on, he's still got a few holes on his bum.
I'm going to have to bite the bullet and read the instructions on my camera. I seem to be a little hit and miss with the clarity.
SURPRISE!!
Don't you love it when you go to your mail box expecting the usual hum drum mail and you find a padded parcel with your name on it. That is the best, the unexpected but always loved and welcome gift. Even better when it's craft stash with chocolate!!!!
Nina has done it again and sent me this lovely little present. I've never seen Ear buds before they are too cool! We are both fans of "The Walking Dead" and the Zombie magnet now has pride of place holding my cross stitch charts in place. Every time I look up and see it I can't help but smile out loud. Thank you Nina you are such a generous, thoughtful and stunning STAR! This Ecards for you LOL!
HAED had a 50% of sale recently so I thought it would be the perfect time to complete my Tcherevkoff shoe collection. My friend Mrs. Dibble had already RAK'd Salvatore when this designer frist emerged on the HAED website, so I added two more. I have this beautiful fabric I purchased from
Sew It All
called
Pebbles Design
The lovely boys kindly sparklied it for me as well and when the shoes are stitched on them it will look like discarded shoes lying on wet pebbles. I hope it turns out as good as I envision it. So now I have the charts, the fabric...just need the threads and a space on the rotation. My wip's have skyrocketed to 51!!!

Paradise Found
Shoe Fleur

Salvatore
And from Gecko Rouge's Etsy shop may I present "Lady Hatter"! The charts are only sold as kits so she will just have to be started when she arrives.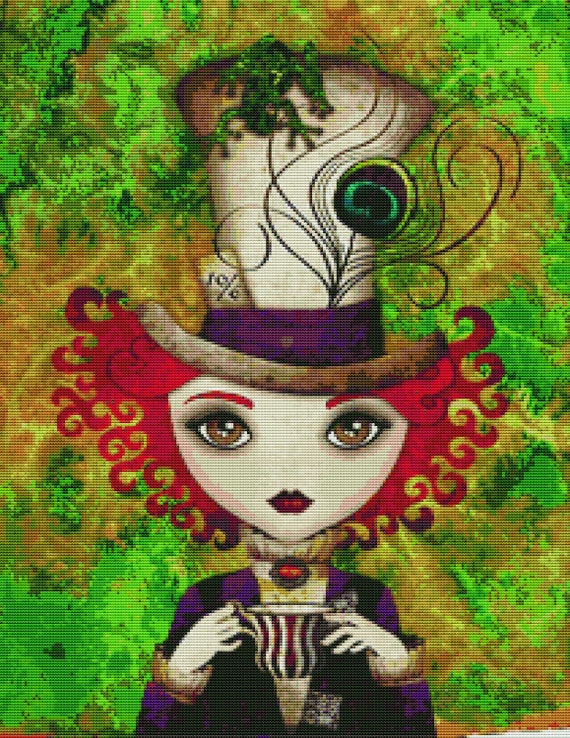 Lady Hatter
I plan on getting all my new starts started and then I can just settle down and pick one at random to work on. I love setting goals and organising schedules to stitch and markers to reach, but that is just not realistic for me. So I don't know why I set them. I love how the SAL's are helping me get some progress done on specific Wip's and I think I will just leave it at that for goals and such.
Passione Ricamo 2014 Mystery SAL
Also for some unknown reason I found myself joining in the Passione Ricamo 2014 mystery SAL....why oh why did I do this seeing as I didn't put one stitch into the 2013 one!!!! (Technically I did but made a bad error - see post back in September - New Start Fail)
The word "mystery" gets me sucked in every time. If I was a cat I would be dead in an instant due to my unwavering curiosity. But as a human it keeps me intrigued and stash enhancing. I love anything where the meaning is hidden and awaits discovery...It doesn't start until March 25th so there is time to collect all the requirements. Anyone want to join me??? The link takes you to the Mystery Sal page.
Good luck to those of you participating in YOTA looking forward to your posts next Saturday.
Take care my beautiful creative friends. Enjoy life and may it be filled with rainbows and magic.
I'm going to go back and leave comments on your blogs. Sorry for the absence but I was silently stalking you all. Bwah hah hah!